Video collaboration dramatically improves communication with team members and clients. But where can you find reliable customer service to support the adoption of video collaboration technology? In our recent blogs, we covered the importance video collaboration has on a team's communication. Here, we'll examine what helps companies adopt these AV solutions. If your company can find one place for all its technology needs, it may provide the peace of mind you need to make changes.
AV Partner Requirements
What is your company looking for in an AV partner? Is it a one-stop-shop for design, implementation, and adoption? Without a single partner that can handle these three critical solutions and services, the list of vendors to manage stacks up, and so do the various contracts. Every company wants to be efficient, but not every company knows how. Is it possible to have all your communication needs met by one company? To be advised, equipped, and serviced all from one place?
Continuant designs, implements, and supports AV solutions. We also help thousands of clients maintain peak IT efficiency through managed services. Our clients tell us that our consistency is what sets us apart. In our most recent customer experience survey, we ranked among the highest customer service companies in any industry.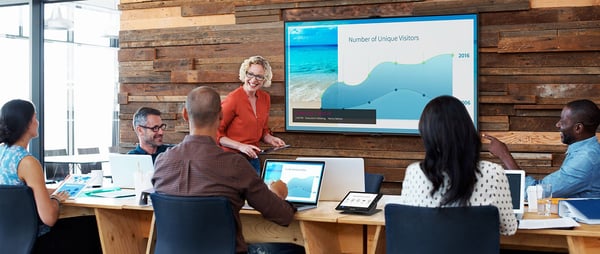 Why?
We track our performance against our service level targets. We also develop a service level agreement (SLA) with our clients that reads, "Any problem you have, we will resolve within an agreed upon amount of time." Our team of Named Account Managers, Sales Engineers, and Service Delivery Leads have gained quite the reputation for meeting and exceeding client service expectations. We help manage your day-to-day functions and develop a strategic roadmap for your company's future.
We bring our deep AV experience to you, so your AV transformation is a smooth one. Your company's mission in today's marketplace is to become collaborative to the core. Collaborative companies capitalize with their clients through low-stake, personable video conferencing possibilities. They also achieve in-house synergy through effective video collaboration. Our team's unique ability to design, deploy, and support this modern AV solution will free up your team so they can focus on what matters.
Final Thoughts
AV technology is making the modern workplace human again. Through face-to-face conferencing solutions, companies are coming out of their cubicles and into global collaboration. If you are moving toward the face-to-face meeting culture made possible by video conferencing, our team is ready to guide you along the way. Our clients say that our consistency keeps them trusting Continuant for reliable AV solutions. Let us know how we can help transform your company into a collaborative one.
---
Questions? Need more information?
Schedule a no-obligation call with one of our experts.