This should come as a surprise to no one; Microsoft Teams made an appearance at Enterprise Connect 2019. Microsoft took advantage of this event to show off some of the amazing new things their communications app has to offer. The important thing to take away from the event is that Teams has improved the way it conducts meetings, and that problems that might have made adopting the system difficult in the past now have simple solutions.
Taking the Place of Skype
It wasn't long ago that Microsoft announced the end of Skype for Business, hoping to use Teams as its one and only collaborative app for Office 365. Back then, fans of Skype for Business expressed concerns about losing some of the features they had become familiar with after using it for years. Fortunately, Teams now has all of Skype's features and more, evolving its meetings with new intelligence.
With Intelligent meetings, Teams can do things such as quiet background noise, allow people joining meetings to join muted, and notify users if they're muted should they want to speak. It's also possible to join a Teams meeting from anywhere at any time, only requiring an invitation and a device capable of running the meeting such as a smartphone or computer. This means that third party attendees such as vendors or guests not only won't need to be in your system, they won't even need to have the Teams app downloaded. It's also possible to join a Teams meeting through the Microsoft Edge browser as well as Google Chrome.
And there's even more than that. Teams now has in-line translation capabilities, meaning your users can communicate with each other in their native languages on the fly, with over sixty languages supported. For team members who struggle to read (as 1 in 5 workers today reportedly suffer from dyslexia), Teams' immersive reader can help alleviate the struggle by changing text and word preferences, or by reading aloud text messages. Federated meetings will also give you more control over who participates and when. Should any of these users experience difficulties, dial-in feedback support will help them participate even if things go wrong. What's more, Teams meetings can now support up to 250 people.
Find out exactly what a transition to Microsoft Teams look like. View the Microsoft Teams Adoption Guide.
Phones work better with Teams as well, offering call queues, consultative transfer, and the ability to forward a call to a group. With direct routing, businesses can use existing phone systems to better customize and improve the user experience. In fact, the whole devices ecosystem is significantly better. With an update to Skype Rooms Systems, users still on Skype for Business can easily join Microsoft Teams, and any SIP phones that worked with SfB will also work with Teams. Couple this with USB HID support, and Teams should have everything you've ever wanted or needed from your communication software.
The Other Parties Involved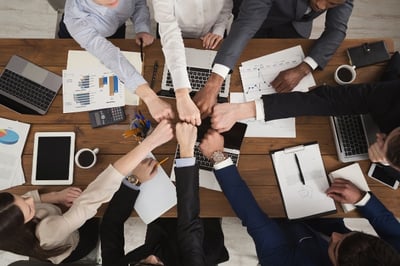 But what if you're already using an application for collaboration? Teams may offer nice features, but it might make your communication systems muddied and confusing if you're already using Skype or another software entirely such as Zoom or BlueJeans. Fortunately, Microsoft has partnered with many different third parties to ensure that their products will function within Teams. Conferencing solutions from Crestron and Polycom will be able to make calls through Teams, and BlueJeans will seamlessly integrate video conferencing with both applications.
When it comes to conferencing and collaboration, video is nothing to scoff at. People want to be able to communicate in real time with the highest possible quality, and businesses are certainly no exception. As it happens, Teams' video is making waves in the industry, and is largely considered to be the best of its kind. It's the sort of application that can have your employees communicating with each other easily and effectively, no matter where they are in the world.
Teams is all about empowering the modern workplace with intelligent meetings. Though adopting a new system like this one might seem challenging, it's well worth it. Engaging and including your employees is one of the best ways to raise profits and morale. Get ready for intelligent meetings to change the way you think about collaboration in the modern era.