Microsoft's annual partner conference Microsoft Inspire 2019, just wrapped up on July 18th in Las Vegas. From jaw-dropping dance performances to amazing product demos and breakout sessions, Inspire was the place to be! Inspire is where Microsoft's global partners gain insight, direction and focus on areas of opportunity not only for their businesses, but their clients and vendors as well. The buzz in the air and the amount of information on display keeps partners like Continuant coming back year after year. This event allows us to see firsthand, new and exciting innovations for their business needs.
Teams is Working and it's not Going Away Anytime Soon
One of the key focus points at Inspire (and something Microsoft's CEO Satya Nadella was excited about) was the success of Microsoft Teams. Teams allows users to meet anywhere, meet more intelligently and meet more confidently. Whether in a conference room, on mobile or desktop you get the same experience. Plus, Teams can function as a complete Voice solution, truly making it the "all in one" suite we've been waiting for. Formerly, Skype for Business was the featured communication app in the Office 365 suite. Microsoft is now replacing Skype for Business with its newer software, Teams.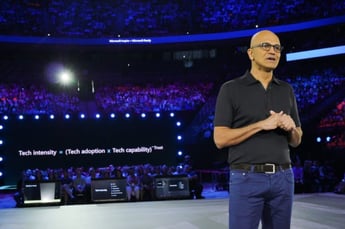 Since its release in 2017, Teams now has 13 million daily active users and 19 million weekly active users. It's also available in 52 languages across 181 markets, empowering a global workforce. In his keynote session, Nadella said,
"The one product that has had an absolute breakout year, is Teams. Teams is the hub for teamwork. It's really four things in one, right? It has chat, it has meetings, it brings together collaboration using all the richness of Office tools with that same scaffolding. It's the business process workflow. That's what Teams is about. It defies the category definitions that are out there in the marketplace. And that's what is driving this tremendous momentum."
In one of the breakout sessions at Inspire, Sean Wilson, Microsoft's Architect of Intelligent Communications, laid out how Teams is the fastest growing business app in Microsoft's history with over 500,000+ companies actively using it daily.
Security is more vital than ever with cloud solutions and Office 365, including Teams. Because of this reality, Microsoft is beefing up its privacy and security when it comes to call recording. Microsoft announced certified compliance call recording from ASC, NICE and Verint. Federal law permits recording telephone calls, and in-person conversations with the consent of at least one of the parties. Teams has a built-in consent that gives authorization when the recording of calls or meetings is needed.
Microsoft also announced new Teams integration with Contact Centers. Continuant's partner, Five9 announced that Microsoft has selected Five9 as a strategic contact center partner to deeply integrate the Five9 Intelligent Cloud Contact Center platform with Microsoft Teams. Prior to this, Microsoft had no Contact Center solution. Dan Burkland, Five9 President said, "With the addition of Teams, we can now deliver a fully integrated solution encompassing Teams, Microsoft Dynamics 365, and Five9, which enables the digital enterprise to deliver unparalleled customer experience."
How Changing the Way we Meet, Changes the Way we Work
The workforce is changing, and teamwork is essential. Companies and their employees are embracing a more flexible work style, as well as flexible places of work. With over five generations populating today's workforce, 72% of them will be working remotely within the next year, according to Microsoft. This includes people that have used a traditional handheld or land line phone their entire lives, as well as people who have never owned a home phone. The need for collaboration is greater than ever before. Solutions are needed for the way we meet, but they must be packed with value and simplicity.
So why are meetings so important? At the end of the day, it's about changing the way we work in order to receive maximum ROI, not only externally but internally as well. It's about having conversations with customers and employees to transform the way we do business. Meetings through Teams makes this happen.
Continuant's own David Ellis had the opportunity to speak in a breakout session, highlighting why Continuant has had so much success using meetings and the live event space within Teams. Ellis said, "It's a natural add-on to our white glove meetings and rooms services that we are already offering." He explained that a lot of customers are still using other platforms and vendors to support their live events, which creates a pain point for them, having to manage several platforms for different needs. Ellis added, "It allows us to offer more complete managed services and offerings."
Ellis also shared the "secret sauce" to Continuant's success when moving customers to a cloud-based platform. He said, "The secret to our team's success is focusing on business needs, evaluating business needs and letting that drive the technology discussion versus picking the technology and then shoehorning that to fit the business need." A good example of that success is with Continuant's partner Adient, a global automotive parts manufacturer. Continuant built a roadmap uniquely for Adient to migrate 29,000+ users to the cloud, using Microsoft.
Microsoft's partners like Continuant play a vital role in helping organizations of all sizes digitally transform. As the world is embracing a new way of working, with an emphasis on teamwork, companies are stepping up to take part in that success. Inspire's 3-day partner conference gave the information needed to help make that transformation possible.
Want to learn more about Microsoft Teams?
Download the Microsoft Teams Adoption Guide flipbook.