In a previous blog, "Avaya System Owners at a Crossroads," I addressed the topic of Avaya support by answering a question we hear frequently: "When is software support needed, and when is it a waste of money?" And because some of you have asked about Avaya's End of Manufacturer Support (EoMS) policy, it seemed to me to be a good idea to address both topics in one blog.
This is part 2 of a 5-part blog series on Avaya Support.
---
Just want the highlights of this blog series on Avaya Support?
---
When To Consider Third Party Avaya Support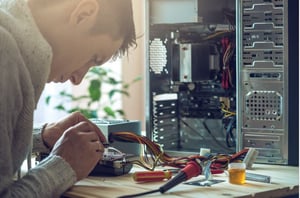 In writing the "Crossroads" blog, I intended to point out that, while third party maintenance (TPM) and support is sometimes the best choice for Avaya system owners, there are times when it is not. Where TPM is a good fit, service levels can be higher and costs lower. We believe TPM is ideal for all Avaya system owners who are using systems that are at End of Manufacturer Support (EoMS) while planning a migration to a Unified Communications solution from either Cisco or Microsoft (the two dominant players in our industry) or from another vendor.
Nevertheless, there are times when the better choice is to stay with Avaya for the maintenance and support of Avaya systems. Some Avaya system owners, in fact, deem the Avaya solution the best choice for the long-term, often choosing to upgrade their Avaya systems, which inevitably means purchasing the mandatory software support that accompanies each upgrade. Because Avaya's latest release (currently CM 7) is what we call "patch-dependent," Avaya is actively developing patches for this system. To obtain these patches, the system owner must have an Avaya software support agreement.
Moving Away From CM 6 (Or Older) Systems
Systems that are CM 6 or earlier, however, are an entirely different story. For the older systems, Avaya has made it clear that no further patches will be developed. Of course, if Avaya system owners stay with the OEM for system maintenance and support, Avaya will continue to require those customers on an Avaya support contract to purchase Avaya support, even though the owner of the older Avaya system will end up paying for nothing.
So, Who Does Need Avaya Support?
When Avaya systems move to EoMS status, things change. Over the years I've addressed this topic in other blogs. When CM 5.2 moved to EoMS status, I wrote "Avaya Software Support – Who Needs It?" to address that very question. When CM 6.3 moved to EoMS status, I wrote "New Dog, Old Tricks: Avaya Announces Another End of Manufacturer Support for CM 6.3."
I believe that one of the main reasons Avaya announces EoMS is to motivate Avaya system owners to purchase upgrades and the accompanying mandatory software support. Avaya's own Product Support Notices and End of Sale Notices may state that there are many downsides to systems being EoMS – downsides that could actually be considered risks. These downsides include Avaya policies such as "no guarantee of parts availability," customers being relegated to Avaya's "best effort" support, and the threat that Avaya will be unable to solve a problem without the system owner purchasing an upgrade and the mandatory software support that comes with it.
---
Not sure whether to commit to Avaya Extended Support or transition to UC?
---
Operating Avaya Systems After EoMS
While spare parts are readily available, Avaya does try to give the impression that they are not. In fact, as Cisco and Microsoft are starting to displace legacy and late-model Avaya systems every day, I would argue that spare parts are more readily available now than ever before, with yet again more available tomorrow. Continuant guarantees spare parts availability.
Let's move to "best effort." Is "best effort" the best that an Avaya system owner should expect? Not at all. Continuant is an example of a TPM provider that will guarantee an SLA for Avaya systems, regardless of vintage. We have the technical expertise to be able to back up such an SLA, thanks to our Avaya engineers.
Are upgrades ever the only way that a problem can be resolved? We have supported millions of Avaya users on thousands of Avaya systems for the last twenty years, and we haven't seen it yet.
An example of a client that has chosen Continuant to maintain and support its Avaya systems is sports apparel giant Nike. Nike, which currently has Avaya CM 6.3 systems, has determined that the Avaya systems will be replaced with Cisco systems moving forward. Continuant is able to maintain and support Nike's systems around the globe while Nike plots the course for its future solution deployment—which will take place over the next several years. Imagine how much smoother the transition to a new solution will be for Nike working with a TPM provider such as Continuant, a company with a track record of supporting Avaya systems, while also able to support the new Cisco systems, if Nike so chooses.
There are times when third-party maintenance and support for Avaya systems is not the best choice. But when TPM does seem to be the best option, but when it is the right decision for the system owner to make, it is overwhelmingly not just "right," but the best.
---
Download the executive summary of this 5-part blog series

on Avaya Support, including a

personal take on where the i

ndustry is headed and how to prepare your organization for the future.
---
---
Articles In The Avaya Support Series
| | |
| --- | --- |
| 2. AVAYA SUPPORT - WHEN IT MAKES SENSE TO WORK WITH THE OEM AND WHEN IT DOES NOT | |
---