The states of Oregon and Washington have a new vendor for all things audio, video, and lighting. That vendor is Continuant. Now every public entity in Oregon and Washington, from state agencies to school districts, cities, and counties, can go directly to Continuant for all their AV system needs without going to RFP. This contract will save public entities in the Pacific Northwest many hours of valuable resource time creating and managing the somewhat arduous RFP process. But what does an AV service contract such as this really entail?
In simple terms, we at Continuant will be responsible for designing, deploying, and supporting all AV solutions on which Oregon and Washington public entities rely. This includes Collaboration Solutions,
Conference Rooms
, Training Rooms, Auditorium AVL, Broadcast/Production Solutions,
Interactive Classrooms
, Sports Facilities,
Digital Signage
, and Facility Networking.
---
No RFP's, No Problem
As you know, developing, issuing, and managing an RFP is a time-consuming effort. The States' AV Contract with Continuant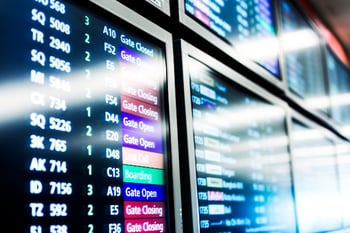 was put in place as a way for public entities to buy AV solutions and services from a fully vetted vendor with advantageous pricing previously established and all Terms & Conditions in place. Whether you need us to help keep your old AV systems running, or work with you to find new solutions, we've got you covered. Both solutions (the actual tech parts) and maintenance (keeping them working optimally) are equally integral to the services we provide.
Here's a more specific example. Let's say the Department of Transportation wanted to change their digital signage for public transit. The elimination of the RFP process means they won't need to dedicate internal resources to spend months building an RFP, soliciting quotes, evaluating proposals, negotiating Terms & Conditions, and vetting firms to find the best AV Integrator for the project. Rather, Continuant's certified designers and technicians will develop the best solution for the project and have the new signage in-place within their budgeted funding and time frame. No hassle, just world class solutions and support.
Peace of Mind
When it comes to service like this, peace of mind is what you really need. You want to be able to carry on with your business without worrying about what might be happening with your AV projects. Fortunately, Continuant's contract provides both on-site services and 24/7 remote monitoring. So no matter where you are, we'll be able to identify and resolve any issues with your AV systems.
In fact, our preventative maintenance allows us to solve problems before they ever even arise. Nothing works better for your peace of mind than the knowledge that your service provider is always actively making sure your systems functions as best they can.
The Makings of High Quality Service
Continuant is committed to being a quality service provider. That means being knowledgeable, accessible, and responsive, serving as a point of contact between vendor and customer. A valuable and trustworthy partner will make your life easier, and Continuant is just that. Not only are we able to answer your questions, we'll be your "one stop shop". You won't have to juggle multiple vendors with multiple customer service centers and the various people associated. That's our job, not yours.
Additionally, Continuant excels at being flexible; working with our customers to tailor the perfect solution to their individual needs. With all the many things for which a public entity is responsible, it can't be overstated just how much this matters.
This State AV Service Contract applies to more than 2,000 public entities in Oregon and Washington, and it's bound to be a huge help to these organizations as they seek to maximize their investment in AV solutions while minimizing their internal administrative efforts. We at Continuant hope that other states follow Washington's leadership in issuing an AV State Master Contract to help its public entities reduce their efforts and increase efficiency as their best-of-class AV solutions are designed, installed, and supported.
---
Questions? Need more information?
Schedule a no-obligation call with one of our experts.