In this third and final part of our series of questions and answers, we'll be looking at questions that discuss how to navigate the transition to Microsoft Teams. If you haven't read our FAQ Part 1 and Part 2 where we answer the why and what questions respectively, feel free to read those before continuing. Assuming you're all caught up, let's not waste any time.
1) How do I navigate the Skype for Business to Teams Journey?
Suffice it to say, you'll need a plan. A roadmap, if you will. It's important to remember that there are many ways to Teams. If you're ready to move straight to Teams, that can be arranged. If you still need to keep Skype for Business around for any reason, that's also doable.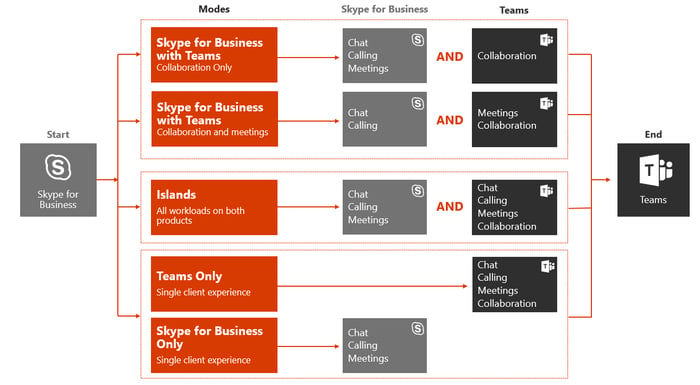 With several different modes, the transition to Teams can be carried out in a few different ways. Of course, modes such as Coexistence or Islands will be most beneficial during the pre-upgrade phase of the journey, as you'll eventually need to fully upgrade and use all Teams all the time.
When navigating this journey, it's nice to have a reliable ally alongside you. That's what Continuant is here for, which brings us to our next question.
Questions about Skype for Business Online coming to End of Life?
2) Why do I need upgrade guidance? Can't I just delete/decommission Skype for Business?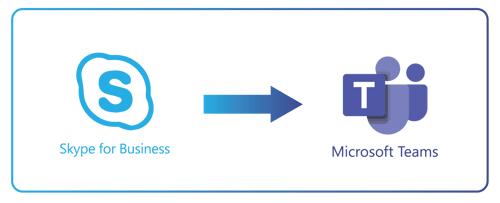 We all wish it could be that simple, but the reality is communication and collaboration for your organization is more than just an app on your computers, and the transition is more involved than uninstalling the old and installing the new. Transitioning to Teams requires both technical and business readiness, meaning you'll want to ensure that your environment is ready to handle the new technology, and that your users have accepted and adopted Teams as their new means of communication.
Change can be difficult for anyone involved, and in cases where user adoption isn't as enthusiastic as you might like it, coexistence can be extremely helpful. As time goes on, your more stubborn users can make use of the Skype features they like, while gradually getting used to working with Teams. Getting these users ready to use Teams full time will take quite a bit of effort, and it's here that you'll need guidance most of all.
3) What do you recommend for organizations currently in the process of deploying or planning to deploy Skype for Business in Office 365?
It depends on how far along you are already. Let's just say the best option with Skype in Office 365 is to not even bother with it. Teams is demonstrably better, and soon it'll be the only option for Office 365 users. Microsoft announced that Skype for Business will be retired on July 31, 2021. With the end of Skype's life rapidly approaching, you don't want to be stuck with it. Deploy Skype now, and you may wind up needing to rush your upgrade to Teams.
If you're considering deploying Skype for Business at any point between now and July 2021, it might be best to instead jump straight to Teams.
4) How do I navigate to Teams if I'm currently on Skype for Business On-Prem?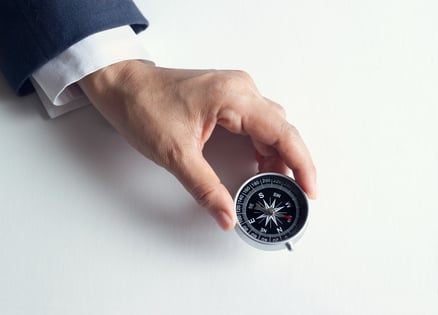 For most of our discussion thus far, we've focused on Skype for Business Online, because of the end of life announcement. However, if your business is on Skype for Business Server (or On Prem), it's also time to start evaluating your options. While Microsoft has promised to continue support of SfB Server through 2025, your process to Teams is going to be more involved. Moving from on prem to the cloud is understandably more of a heavy lift than moving from one cloud application to another.
For many of your organizations, the reason you've remained on Skype for Business Server is for the voice capabilities. Your organization likely has a complex voice environment, and moving to the cloud hasn't been an initiative that you feel you're ready for yet. You know how painful it would be if the migration went awry and you had to handle disconnection and outages because of it.
In these instances, the only way to be absolutely sure that the migration to Teams will go off without a hitch is to work with an experienced Microsoft Direct Partner. You need a consultant to understand your business needs, evaluate the complexities, and design a voice solution and roadmap for moving to the cloud with Teams. This will ensure that every crucial detail is accounted for, the right things are checked and double checked, and your roadmap is closely followed.
Teams excels in the voice and collaboration arena, and your users will surely be pleased with the new modern workplace in the cloud. It's just a matter of getting there first.
5) Who can I contact for help with migrating to Microsoft Teams?
The obvious answer of course is Microsoft, but there are certain things that they won't be able to solve. Microsoft obviously knows quite a lot about this product, but what they don't know nearly as much about is you. Your organization has very specific strengths and weaknesses, and your intelligent communications system should capitalize on the former while mitigating the latter. This is what an Microsoft Direct Partner can help with.
Continuant is one of such integrators who can work with you to make sure everything fits your needs. Where Microsoft can help with simple or well-known issues, Continuant can be much more helpful in more niche or specific circumstances. We care about learning how your organization works, and what your long-term goals are. Then we create a plan for transforming your UC environment to fit those goals. Due to our experience in the UC world and beyond, we can help you envision a more comprehensive solution, from meeting rooms to video collaboration to call centers and more. Simply put, working with a partner is the best way to ensure that your user adoption is high and your business doesn't experience frustration in a complex transition like this.
Whether you work with an integrator like Continuant or look elsewhere, there are people you can contact to help with any issue your system might be facing.
6) What is a Roadmap for Skype for Business to Microsoft Teams?
The term "roadmap" has come up several times in this long discussion about Skype and Teams, and for good reason. A roadmap is necessary for making the complete transition from Skype for Business to Microsoft Teams. It functions just like an ordinary map, except where an ordinary map would be marked with streets, cities, and borders, this map is marked with different modes, features, and other appropriate steps in the Skype to Teams journey.
In some cases, it's laid out more like a timeline than a map. Transitioning from Skype to Teams will take time, with each of the appropriate steps representing a different juncture in time along that journey. Getting from one point to the next can often take days or weeks, so it's important to map out the proper amount of time for each.

7) What are the appropriate steps?
The appropriate steps for your journey are pictured above and have been detailed earlier in this FAQ series. To review, you'll first want to gather the right team to spearhead the project, then set aside time to clearly define your goals. As you move forward, make sure to test for both technical and user readiness. You can tell how important this concept is because of just how many times it's come up in this series. From here, you can move on to deployment and implementation. As you pursue operational excellence, make sure to set up a system that can monitor and report on data so that problems are easy to identify and fix.
8) Where can I find more answers?
Though this series has answered a lot of questions, there's a chance you still have more. If that's the case, both Microsoft and Continuant have a plethora of informative articles that just might have the information you're looking for. Continuant also has several experts on hand that can answer all your complex and more technical questions.
We hope this FAQ series has helped you see what Teams can do for you, and that you're as excited as we are for the future of Office 365 and the evolution of your modern workplace.