So, you've decided to transition from Skype for Business to Microsoft Teams? You'll find soon enough that this was the right decision. This is going to be a big change. While it might seem relatively simple on the surface, you should know that it isn't something you should attempt to handle on your own since it isn't as simple as flipping a switch.
A Partner for the Long Road: Working with a Microsoft

Direct Partner

during your Skype for Business to Teams Transition
To make a successful transition into this modern workplace, you'll need a partner that can give you a clear vision for where technology is headed, both now and in the future. This kind of partner (also called an integrator) will ensure that you're fully prepared and that your system will be working at top efficiency from start to finish.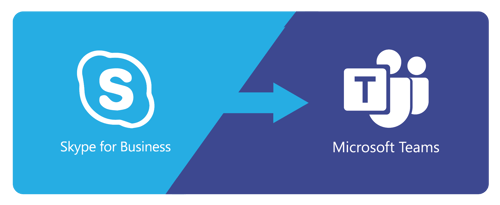 By now you probably know exactly what's going on with Microsoft 365. Microsoft has been aggressively making changes to its services with the primary goal of phasing out Skype for Business and replacing it with Microsoft Teams. In fact, Microsoft announced that Skype for Business Online will be retired on July 31, 2021. While Teams has successfully achieved full feature parity with Skype for Business, it's so much more than a 1:1 replacement. It's truly a shining beacon of collaboration for the modern era.
An item commonly overlooked in the transition from Skype for Business to Teams is business readiness. Business readiness includes change management, user adoption and workshops. These ensure a seamless deployment, which helps you avoid the earthquake most organizations face with new technology adoption. The larger your team, the more damaging negative results can be. However, with a controlled change management process and a strategy for user adoption, you will prevent the shockwave of productivity loss and lack of buy-in from your employees. Once you gain buy-in with your Teams Champions and management sponsors, your organization will be prepared for workshops to further the successful deployment and training for Microsoft Teams.
Questions about Skype for Business Online coming to End of Life?
With all its features and functions, Teams serves to make your business better in many ways. However, if done wrong, the transition to Teams could impact productivity on many levels. You need to be certain that your network, or rather your entire technical environment, is ready for it. Even if you do think it is ready, how can you be sure? Teams is a system with a heavy footprint, and although your IT staff may be confident that they've crossed their T's and dotted their I's, what if something goes unnoticed?
Lucky for you, there are providers who know this process backwards and forwards. Microsoft's Direct Partners, like Continuant, work side by side with Microsoft and are well-versed in preparing a roadmap to Teams. With FastTrack from a Direct Partner, you can be sure to see accelerated deployment as your environment evolves into the modern workplace. With a Microsoft Direct Partner like Continuant, your organization will be guided along our proven business readiness strategy. We'll implement it for you as an extension of your team. Our expertise is in designing custom solutions that provide our customers with seamless deployments as they transition to their optimal collaboration and telephony solution.
Having an experienced Microsoft Direct Partner on hand can also help simplify the transition process. A lot goes on during the deployment from Skype for Business to Teams, enough that the whole process can be incredibly complicated and time-consuming, which can be a heavy burden for your IT staff. An Intelligent Communications Solutions Provider will be there to help at every step, from preparation to deployment.
You might think that you can just rely on Microsoft to help you along the way. However, Microsoft has Direct Partners for this very reason; to help provide the support and expertise of deployment and managed services. In every area that Microsoft cannot offer individualized care and consulting, Direct Partners fill the gap.

With our Advanced Support for Partners relationship with Microsoft, it won't be necessary for you to rely on a support contract from Microsoft for your cloud environment. We're able to work with Microsoft directly on your behalf. As an Intelligent Communications Solution Provider, we can be the backbone of your support team by providing managed services and monitoring of your modern workplace environment. With this kind of partnership, we'll work with you to build a proactive plan based on industry insights and trends, instead of reactively solving problems and fighting to keep up.
One of the most important things your solutions provider can prepare for you is a clear roadmap to Microsoft Teams. This transition can be long and difficult, and you'll need to make sure that your users and your technical environment are ready for it. Having a roadmap will help you make sure that the upgrade happens on time and without unexpected hiccups.
Roadmaps are especially important for users who don't want to give up Skype for Business just yet. Microsoft offers several upgrade and coexistence modes that will allow users to deploy Skype for Business features alongside Teams as they grow accustomed to it. With so many ways to go about this, your solutions provider can help you decide on the right mode for your organization.
When plotting your roadmap, it's important to take note of blind spots and weak points. This is another thing your solutions provider can be a great help with. No matter how hard you and your team try, crucial details can easily go unnoticed. Without the proper experience with Microsoft Teams, otherwise innocuous issues can prove to be detrimental. Your Intelligent Communications Solutions Provider will have all the necessary knowledge and expertise to spot these problems with little difficulty and fix them before any damage occurs.
Ultimately, a solutions provider is an invaluable partner. With a high focus on prioritization, your solutions provider will make the process of transitioning from Skype for Business to Microsoft Teams intuitive and timely. Continuant is one such partner, ready to help you transition into the environment that will dramatically increase productivity and prepare you for your bright future.
As Skype for Business gives way to Microsoft Teams, make sure you have the right partner on hand to ensure the transition goes off without a hitch.