What are the things you can use to improve your video collaboration? As the modern workplace changes, so does the way businesses collaborate with colleagues and clients. Companies that are moving toward video and away from faceless communication are maximizing their creative output and bringing a competitive advantage to their respective markets.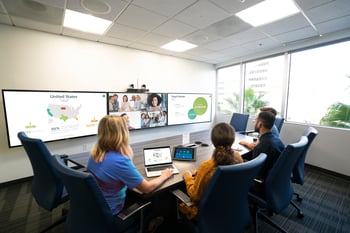 Having to commute an hour each way to work never helped anyone's collaboration. It has also never been inspiring to have meetings in sterile boardrooms, nor was it to sit in a cubicle. But we did it. We wore those pleated pants, and we pressed through the 90's and 2000's like the little workhorses we thought we had to be. Through it all, technology started improving. The internet became faster, the screens clearer, and suddenly, video collaboration was born. Video collaboration has created many possibilities for the 21st century employee. Now it's completely possible to have a productive workday from a laptop at home and join face-to-face meetings with coworkers no matter where they might be. Video collaboration brings life to otherwise lifeless meetings, which is exactly what your team needs to perform optimally.
An article by Lifestyle showcases just how helpful video collaboration can be. 89% of this article's respondents reported that video conferencing reduces the time it takes them to complete their tasks, and 72% of employers report an increase in employee retention. Above all, more than 90% of the respondents claim video conferencing increases productivity and helps build relationships both inside and outside of the office.
Video collaboration can make your business excel to an extent you might have never even considered possible, but as you move forward with this new technology, you'll need to make sure that you're using a platform that works for you. The solution you choose will need to be one that specifically fits your collaboration goals to make sure you can maximize your investment.
Three Solutions, Three Paths to Success
Video collaboration may be the way forward, but it branches off into three divergent paths. These paths are Microsoft Teams, Cisco WebEx, and Zoom. All three of these different collaboration platforms will provide the kind of video collaboration you need, but each one has its own specialties.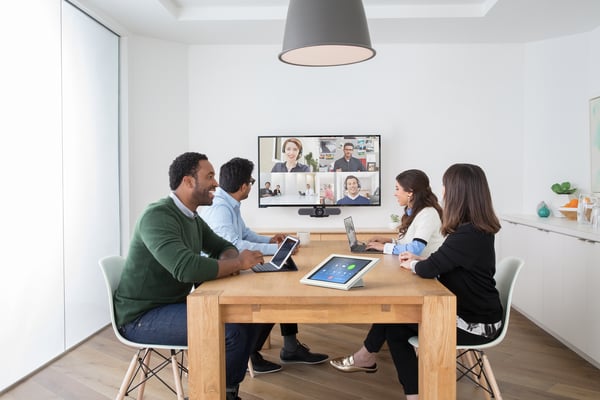 Microsoft Teams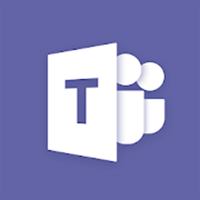 You're probably familiar with Skype. In fact, you might have considered using or at one point used Skype for Business. There was a time when Skype for Business was the best of its class, but soon it'll be cast aside (link to Skype EOL article). To take its place, Microsoft has created a bigger, better collaboration platform called Teams.
Microsoft Teams is an all-encompassing suite that can be useful in a wide variety of industries, from large enterprises to the education sector. It features seamless video and audio conferencing, screen sharing, easy file sharing, organized channels, and integration with other Microsoft applications such as SharePoint and OneDrive. In fact, Teams is a part of Microsoft's Office 365 suite, meaning it functions in conjunction with many Microsoft programs, from Word to OneNote.
With Teams, Microsoft is dedicated to perfecting the video collaboration experience. Its transcription technology puts words to text in a matter of seconds that can be translated into more than a hundred languages. With features such as these, it's the perfect solution for businesses of any size with diverse teams looking to take their collaboration to the next level.
According to an article published by Forrester, 88% of businesses claim Microsoft Teams has helped improve their efficiency.
Cisco Webex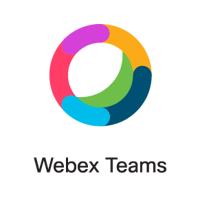 Larger enterprises who've been around for some time are no doubt familiar with Cisco, a company that likely supplied your business with phones years ago. Cisco's answer to the modern need for video collaboration comes in the form of WebEx Teams. This new solution can be deployed on-prem, in the cloud, or hybrid, and can be integrated with existing Cisco UC systems. It's perfect for an organization that has used Cisco products for ages and would like to leverage new technology from a provider it trusts.
WebEx Teams features native voice and video capabilities that can reach out not just to other WebEx users, but also to other SIP endpoints. If you've got an on-prem calling system already, WebEx Teams can leverage it and maximize your investment. A WebEx meeting can host up to 200 users through WebEx, an industry-standard SIP endpoint, and even Skype for Business. There's no small amount of enterprises that could make this solution work wonders for them.
Zoom Meetings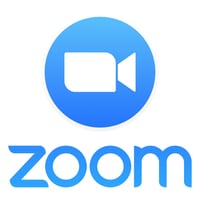 Zoom is another video conferencing solution that promises the ability to meet from anywhere on any device. Simple and easy to use, Zoom focuses chiefly on video conferencing. It may not have access to Microsoft Office or any Cisco systems, but it can easily integrate with meeting room hardware for any kind of space. Perhaps Zoom's best feature is its mobile interface, replete with virtual backgrounds, screen sharing, co-annotation, and driving safety features allowing you to collaborate during even the busiest commute. It might just be the perfect solution for businesses that aren't plugged into Office 365 or a Cisco system but still want to leverage high-quality collaboration.
Where Teams and WebEx come with all manner of tricks and traps, Zoom is a "plug and play" solution. You'll get just what you need from it right out of the box every time.
Of these three solutions, you'll want to pick whichever works best for your environment. Pick Teams for its well-deserved reputation, WebEx for its leadership in the industry, or Zoom for its consistency. Either way, you'll have the solution you need to create the kind of working environment that will give you and your employees the most value.
---
Looking to improve your collaboration solution?
Schedule a call with one of our experts.