Meetings tend to carry with them a sense of dread. Though necessary, meetings can have detrimental effects if they're poorly executed. This compelled Patrick Lencioni to coin the phrase "Death by Meeting" in the early 2000's. In his book Death by Meeting, Lencioni says, "bad meetings almost always lead to bad decisions, and that is the best recipe for mediocrity."
But what makes a bad meeting as opposed to a successful meeting? There are several areas from which bad meetings originate, and each one has a solution.
The Spaces Where Meetings go to Die
In many cases, the quality of a meeting is determined before it even begins. Cubicle-ridden wastelands have been the status quo for workplaces for many years, but a space this ill-suited for collaboration will inevitably lead to "death by meeting." The workspace should facilitate synergy both in and out of meetings to avoid shallow and ineffective collaboration. A modern workplace should not just allow but encourage team collaboration during, before, and after a meeting. Make it too hard to do this, and your employees won't bother collaborating at all.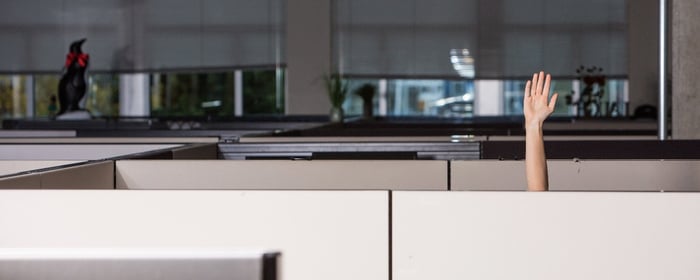 Remote Workers
It doesn't help that there's a good chance at least one member of your team doesn't even work in the office. According to a survey published in the New York Times, 43% of employees work remote. Given the inherent appeal of working remote, it's no wonder this number is as high as it is. The term remote is also an inclusive one and can include employees working from home or from another country. Modern meetings need to account for this trend and optimize for it.
Communicating long distances will require the right conferencing technology. This might not seem so bad at first, but it's no secret that communication technology is rife with problems. When was the last time you heard someone have a drawn-out conversation about how well their Skype or Zoom call went, extolling the virtues of their internet connection all the while?
How Technology can Kill Your Meetings
Nothing kills a meeting like technology that doesn't work when it's supposed to. We've all been in a meeting that doesn't start on time because of technical difficulties. We've all had to settle for a low-quality brainstorming session due to someone's video not working. Worse yet, some of us have probably had meetings that some of our team members were never even able to join.
If meetings are as crucial as the amount of time we spend in them, the technology that supports those meetings should be appropriately prioritized.
Meetings are like stories. Each one revolves around conflict and features a cast of characters who must bring it to a resolution. Like movies or novels, the narrator (the person conducting the meeting) must present the conflict to the audience (the other members of the team).
There is, of course, a great pitfall that all movies, books, games, and therefore meetings must avoid. The world is full of content and things to enjoy. If your content isn't more engaging and entertaining than someone else's, your audience will happily leave and find something else. Is your meeting more captivating than the Newton balls on their desk? If it isn't, you can consider their engagement as good as gone.
The list of problems is long, but fortunately, there are solutions. To make your meetings as successful as possible, you'll need a better space with better technology.
The Essentials of Video Conferencing
You probably already have at least one conference room, complete with a table, chairs, and some method of video conferencing. As you can probably imagine, the video conferencing tool is the most essential part of this ensemble. Unfortunately, finding the right one isn't always easy.
Other sources may claim that Microsoft Skype for Business is among the best video conferencing solutions on the market. This is not necessarily the case. While Skype for Business may be entirely usable for now, it has its fair share of drawbacks. It lacks modern video features and doesn't integrate with other Microsoft apps such as SharePoint and OneDrive. Worse yet, come July 31, 2021, Microsoft will no longer support it, devoting their resources instead to their new collaboration software, Microsoft Teams. Fortunately, Teams is better than Skype for Business in pretty much every way and will prove to be a viable addition to your conference room solution.
With the right video conferencing solution in place, your conference rooms will be able to avoid the problems mentioned above. Teams' high-quality audio and video will prevent most fundamental technical issues, and its automatic mute function will make it easy to drown out distractions. There are other options as well besides Teams, such as Cisco's secure, customizable solution WebEx.
New Places to Meet: Huddle Spaces
Improving your video conferencing is only part of the process. There are many different types of spaces that can help facilitate successful meetings, varying widely in size and accessibility. At the smallest end of the spectrum, there exists a meeting space smaller and more open than anything else like it: the huddle space.
While we traditionally envision a meeting happening with a whole team -- perhaps six to ten people -- seated around a table in a meeting room, this isn't always the case. Many times, meetings are smaller and more organic, starting with two to three people huddled around a screen discussing projects and plans with their remote teammates. These meetings benefit from a more suitable space.
Though it may look like a less formal conference room, the huddle space is, in many ways, the evolved form of the conference room. Generally made up of couches, armchairs, and round tables with a conferencing device to tie it all together, it looks like something right out of a coffee shop. In a space like this, in-house team members feel invited to collaborate, and remote team members will be easily able to conference in and share whatever they need.
Investing in more collaborative meeting environments is a big step, but it can be necessary to make sure your teams work together efficiently and conduct successful meetings. With an improved collaboration solution for better video meetings along with huddle spaces and upgraded conference rooms, you'll be conferencing effectively with your whole team no matter where they are. Remote employees won't feel nearly as detached from their teams anymore.
Soon enough, "death by meeting" will be a thing of the past.