Five9, the leading provider of cloud contact center software, recently hosted their CX Summit 2019. This event was a chance for the company to connect with their customers, unveil their upcoming releases, talk about their plans, and name the partners they trust to help them improve customer experience (one of which, as you might have guessed, was Continuant). When it comes to deploying integrated cloud contact centers, no one does it with more expertise than Five9. The partnership between Five9 and Continuant promises to make its services and the experience it offers its customers even better.
Winning the War for Customer Experience
Five9's Contact Center application was born in the cloud rather than adapted to the cloud like much of their competition. They have a strong history of delivering their solution. Both Gartner and Forrester have named them market leaders for years. However, now more than ever, the market seems primed and ready for the cloud, and Five9 is poised to help customers take advantage of all that it offers. In 2015, Gartner published an article detailing how competition among businesses was likely to change in the coming years. It predicted that, where once business competed with product advantages, 89% will soon compete on customer experience. Furthermore, 72% of businesses say improving customer experience is their top priority. The contact center is central to helping organizations compete on customer experience.
Five9: "[to] deliver the world's BEST experience between a contact center and CRM... where you cannot tell where CRM ends and Five9 begins."
How will Five9 fare on this new battlefield? Quite well, we confidently believe. During his presentation, Five9's CEO Rowland Trollope outlined the challenge that his company had been given: "[to] deliver the world's BEST and most tightly integrated experience between a contact center and CRM... where you cannot tell where CRM ends and Five9 begins."
The Spring 2019 Release
Five9 recently delivered on this challenge, earning accolades from Service Cloud GM Bill Patterson, as he said, "Drop the mic. You've done it." Five9 shared on their Spring 2019 release, which will show an increased focus on omni-engagement, agent capacity, and global reach. What this means is that it will be much easier for new customers to transition to Five9 solutions. As one can imagine, an easier transition and more omni-engagement features will certainly make for better customer experiences. Better yet, Five9's products will help improve the customer experience for the businesses that use them. Talk about a win-win!
A Partnership Rising to the Stars
Now, improving a customer's experience is much easier said than done. It's the kind of thing that Five9's software can do, but it needs more. It needs industry experience, consulting, and other professional services to fully enable a great customer experience. This is where the partners come into the picture. Continuant was named among the "Rising Star Partners" at the CX Summit, and the newly christened partnership looks to be a match made in heaven.
Five9 provides the products with the knowledge and resources to help other businesses succeed in improving their own customer experience, while Continuant helps the mutual client in using and servicing the product.

Product and Channel Reveals at the CX Summit
There was a lot going on at the CX Summit, and plenty of things for us to be impressed about, such as Five9's significant investments in two areas: product and channel.
For product, they've doubled the number of developers on staff since Rowland Trollope became CEO in 2018. They have added key development leaders, such as their new CTO, Johnathan Rosenberg. In that time, they've managed to deliver 220 new features. For the channel, Five9 has brought on several experienced channel partner executives from Cisco and other such companies to bring even more strength.
Things look exciting for Five9's Spring release. Fortunately, as one of their newest rising star partners, we at Continuant will be right alongside them as they bring out their omni-engagement capabilities and revolutionize their development.
AI and the Intelligent Contact Center
At the crux of Five9's plans for the future is an increasingly ubiquitous miracle of modern technology: artificial intelligence (AI). According to Rosenberg, "AI is an example of a technology that at its basic foundation needs the cloud. This is technology that simply can't be leveraged on-prem." Many venture capitalists are trying to find an AI company that can help leverage their technology. Five9 impressed us with some focused examples of how to use this technology to help their customers compete on customer experience.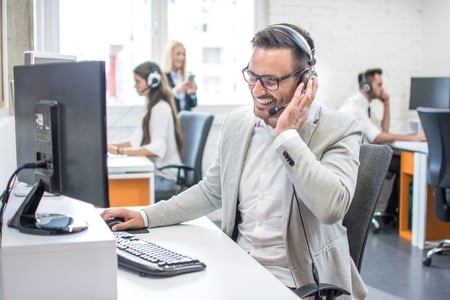 Some might read this news about developments in AI and feel nervous. Trading out the advantages of a human being with AI can be a problem for many people looking for more emotional connection in their experience. For Five9, AI is a great tool to enhance a human agent's productivity, one that it can marry to its human methods in order to take advantage of the strengths of both. Think of it as a way for agents to save time and improve productivity. AI can help train new agents, streamline the process and procedures of the business, and assist customers by auto-filling forms and suggesting responses.
Here's an example used at the Summit: Assume you have 4,000 agents using a contact center regularly, and each one spends up to an hour a day doing basic, banal tasks that while necessary, require valuable effort and far too much time. AI could change that by doing those same tasks for them. Now each of those 4,000 agents has gained roughly an hour per day to get more work done. In total, that's 92,000 hours saved. Feel free to do your own math and see just how much you could save.
This example supports again a point earlier made: the additional availability of time to focus on customer service. Without the grunt work to worry about, the agents can now give more undivided attention to giving their customers with helpful and productive advice. This will allow them to foster empathy and build rapport with these customers and improve their overall experience.
The money saved and empathy gained with the addition of AI is attractive to our customers. How do they prepare for this, even if it is not available to them immediately? See, AI needs data, and lots of it. Extensive work must go into making sure AI does what it's supposed to, especially if it's going to do it as well as or better than an ordinary human. For this reason, it's important to get to the cloud as soon as possible to start collecting data. Then work with Continuant to start identifying use cases, such as interviewing stakeholders, reviewing process, and analyzing speech and transcriptions.
CX Summit 2019 provided a tremendous amount of knowledge and amazing testimonies from customers. It is easy to see why this is the year of the cloud. We are extremely excited for the future of Five9 and customers looking to use their contact center software.
---
Looking to make the transition and improve your customer experience?
Schedule a call with one of our experts.