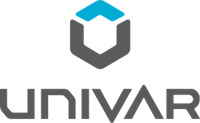 With roots in Seattle, where the company got its start in 1924, Univar (NYSE:UNVR) has evolved significantly from its early days of selling naval shipyard supplies and other raw materials to local businesses.
Today, Univar delivers chemical products and services to the world's most essential industries. Ranked #349 on the Fortune 500 list, this "homegrown" company has continued to prosper and reinvent itself throughout the last nine decades of its existence—surviving unscathed through the Great Depression, contributing to the war effort during WWII, and through the years, going through a series of mergers and acquisitions. Eventually, in 1974, the company changed its name to Univar, and adopted the tagline, Univar is Chemistry DeliveredSM.
Recently, Univar took a major step forward in playing a leadership role in the two important areas of safety and sustainability, becoming a signatory to the United Nations Global Compact in 2018, which "reaffirm[s] our ongoing commitment to responsible business."
With its worldwide team of 9,000 employees in the United States, Canada, China, Europe, the Middle East, and Africa, keeping employees, customers, and suppliers connected is a very high priority. Making this connection more challenging is the fact that the company has undergone many mergers and acquisitions over the past several decades.
For this reason, in 2013, when Univar found itself needing to get its various telecommunications systems from various OEMs to connect with one another—OEMs including Siemens/Unify, Avaya, Nortel, Mitel, Comdial, Panasonic, NEC, Intertel, and Toshiba, to name a few—the company turned to Continuant as having "the right formula" to meet its ongoing needs.
In addition to relying upon Continuant's expertise maintaining and supporting disparate legacy systems, Univar has also begun using Continuant for Managed Services—including delivering Help Desk support.
Account Manager, Doug Brandt, notes that Univar, which has recently merged with Nexeo Solutions, plans to move its entire IT team to its Chicago headquarters in 2020. Observes Brandt, "Continuant will continue to help Univar keep its systems running smoothly during the transition."
---
Want to read more on Avaya Support
Our co-founder wrote a 5 part series on Avaya Support and how a Third Party Maintenance provider (TPM) could be the solution you are looking for.
---
Questions? Need more information?
Schedule a no-obligation call with one of our experts.