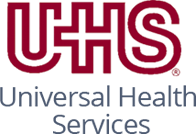 Launched in 1979 with six employees and one telephone, Universal Health Services, Inc. (NYSE: UHS) today ranks among the largest hospital management companies in the United States. The company operates 350 locations throughout the world—including the U.K., U.S Virgin Islands, and Puerto Rico—and boasts some 81,000 employees, and $9.7 billion in revenue. Now ranked #290 on the Fortune 500 list of America's largest corporations, UHS ranks #1 in social responsibility and #2 overall in the healthcare industry.
In addition to its focus on acute care, UHS operates a well-respected Behavior Health Division that serves both a civilian population as well as the U.S. military community, providing behavioral health support services to 160 military installations and VA hospitals across the United States and overseas. In 2016 alone, the UHS Behavioral Health Division served more than 4,700 active-duty service members, veterans, and family members.
In 2014, UHS selected Continuant to support its Avaya systems at just 17 locations. Liking the Continuant high-service model and engineering expertise, UHS gradually began turning over its locations to Continuant.
In 2018, Continuant reached a significant milestone with UHS, signing on the company's one hundredth facility, the Turning Point Care Center in Georgia.
In addition to supporting all of the Behavioral Health Hospitals for UHS, Continuant also provides system design, implementation, and upgrades for many UHS hospitals nationally. Without a doubt, UHS has come a long way from having only one phone and six employees—and with Continuant on board to deliver managed services and solutions, UHS can continue to grow with confidence.
---
Want to read more on Avaya Support
Our co-founder wrote a 5 part series on Avaya Support and how a Third Party Maintenance provider (TPM) could be the solution you are looking for.
---
Questions? Need more information?
Schedule a no-obligation call with one of our experts.