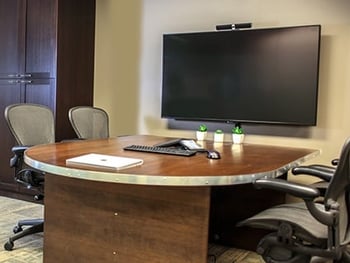 Just as online shopping has changed the face of the brick-and-mortar retail store and reshaped the overall buying experience, so too has the concept of the mobile employee and virtual office changed the physical workplace. Today, your "corner office" just might be the window from your dining room, or the balcony of your hotel.
More than ever, the mobile workforce needs a reliable gathering place to replace the office water cooler. Enter the Huddle Space. Sometimes referred to as a Huddle Room, this gathering place serves as a way for remote employees, employees in other business locations, and those who spend a lot of time on the road, to come together with others to collaborate, meet, and get things done.
What exactly is a Huddle Space? How should you go about designing the right Huddle Room solution? The answers are varied—but always depend on your needs and collaboration solution requirements.
What is a Huddle Space?
At its most basic, the Huddle Room or Huddle Space is a place—large enough for between 2 and 6 people—where AV is deployed via video conferencing to bring people together from remote locations.
Concerned about how to begin? Let Continuant work with you to design the perfect Huddle Room solution. With extensive experience in AV, Continuant offers Huddle Space design consultation, and Day 2 support. If you're ready to embark on the ideal collaboration solution for your team, Continuant AV Solutions can help you enhance that collaboration using the most advanced space design, collaboration technology, and video conferencing technology.