Move over, Unified Communications (UC). The era of Intelligent Communications (IC)—linking people rather than systems—is finally here.
As Microsoft continues to innovate and refine its Skype for Business Online and Office 365 offering (which will ultimately be known as Microsoft 365), businesses today are reaping the benefits of the cloud to speed up internal IT response times, make their enterprise more agile, and—here's the Holy Grail of the cloud offering—make it easy for employees to collaborate more efficiently and effectively, all while reducing the total cost of ownership.
While many companies are already reaping the benefits of an integrated IC cloud offering, less than 50 percent of the companies surveyed in a recent Microsoft poll report that they've achieved "even a basic level of integration." It will take time, and, in many cases, it will take bringing in teams of outside experts such as Continuant to help deploy an enterprise-class IC solution that encompasses all of the integrated features that Microsoft brings to the table—including Voice, which many IT managers readily admit they do not understand.
Teams for Intelligent Communications and Collaboration
Over the past year, through its Teams offering, Microsoft has taken over as the leading hub for collaboration. With more than 120 million users and growing, Microsoft offers a full suite of tools within Teams, including chat-based collaboration, meetings, calling, and soon, full enterprise Voice features.
This week marks the first anniversary of #MicrosoftTeams, growing significantly in both new capabilities and customer usage. Today, we celebrate #1YearOfTeams. pic.twitter.com/UmUQMkqNwG

— Microsoft Teams (@MicrosoftTeams) March 12, 2018
Because Teams is part of Office 365, it offers the distinct benefit of delivering tools that are scalable, with enterprise-grade security and compliance standards that can meet the needs of any global business.
So why do you need a company like Continuant to help you migrate to this new solution?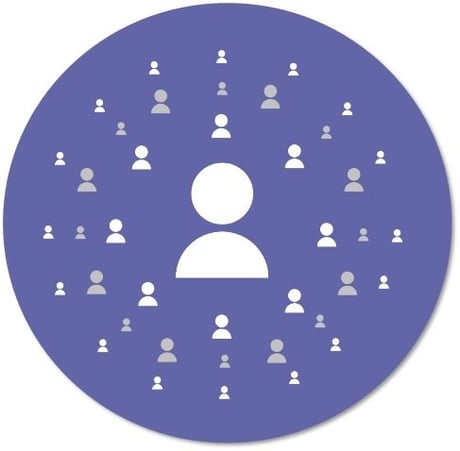 For starters, even the most advanced SfB user may find it difficult to implement all of the cloud application tools as well as expedite user adoption. (Remember our 50 percent "basic level of integration" statistic referenced earlier). From hardware to data center upkeep to user support to on-site data security to backup and recovery to software testing, deployment, and maintenance, there will be challenges—not the least of which will be the new voice applications.
The good news is that Continuant's expertise in Voice can and will serve as a complement to internal IT departments seeking to migrate to the new cloud applications within Teams. Whether it's assistance with a UC or an IC solution, our close working relationship with Microsoft, including our Gold Partnership status, means we are ready and able to assist with moving any enterprise from either an on-premises or hybrid SfB application to Office 365 and the cloud.
Let's look at some of the features that Microsoft plans to announce at the end of Q2 2018 under the Teams umbrella:
Cloud recording—This feature "Will provide one-click meeting recordings with automatic transcription and timecoding, enabling all team members the ability to read captions, search within the conversation, and playback all or part of the meeting." Microsoft also plans, in the not-too-distant future, to include facial recognition, "so remarks can be attributed to specific meeting attendees."
Inline message translation—This feature allows people who speak different languages to be able "to fluidly communicate with one another by translating posts in channels and chat."
Cortana voice interactions for Teams-enabled devices—This feature will enable users to make calls, join a meeting, or add other people to a meeting in Teams "using spoken, natural language," Microsoft says. This functionality will extend to IP phones and conference room devices.
Background blur on video—Being able to blur the background during video calls, according to Microsoft, "will allow other meeting attendees to focus on you, not what's behind you."
Proximity detection for Teams Meetings—This feature will make it easy to discover and add a nearby and available Skype Room System to any meeting.
Mobile sharing in meetings—Through this feature, meeting attendees will be able to share a live video stream, photos, or the screen from their mobile device.
Will You Be Ready?
Microsoft says that this dizzying array of new capabilities will "build on the breadth of new features that have come to Teams in the last year, including guest access, new ways to interact with apps, and new meeting and calling capabilities."
Microsoft has already announced new enterprise-grade calling features in Teams, including consultative transfer and call delegation and federation. In addition, it has introduced Direct Routing, which will enable customers to use their existing telephony infrastructure with Teams for calling. According to Microsoft, "When you combine a Microsoft Calling Plan or Direct Routing with our Phone System for Office 365, Teams becomes a full voice service. These new capabilities are expected to be available in the second quarter of 2018."
What to Expect from Direct Routing
According to Microsoft, Direct Routing enables new enterprise voice options in Microsoft Teams. "Today we are taking the next step for Enterprise Voice and announcing that Direct Routing will be joining Calling Plans as one of the options customers will have for Calling in Microsoft Teams."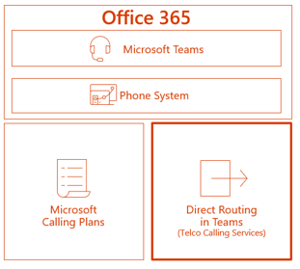 Here's how it will look:
Microsoft plans to make this feature available mid-2019. Because you will have Microsoft Teams and Phone System as part of Office 365 to access this capability, companies will need additional professional consultation and implementation.
What Is Direct Routing?
Again, here's a description from Microsoft. "Direct Routing is a capability of Phone System in Office 365 to help customers connect their SIP trunks to Microsoft Teams. In the simplest deployment model, customers start with SIP trunks from their telecommunications provider. Next, customers will use and configure a supported Session Border Controller (SBC) from one of our certified partners. Finally, they will connect their SBC to Microsoft Teams and Phone System."

Besides the primary Direct Routing scenario, Microsoft anticipates customers will want to use this capability to integrate with other 3rd party voice applications including:
Easy Transition to Calling in Teams. By integrating with an existing PBX, pilot users can be moved to Calling in Teams while users remain on their legacy PBX. Eventually all users can be easily transitioned to Calling in Teams. The call traffic between these users during the transition stays within the organization.
Telephony System Inter/Op. While users are being transitioned to Calling in Teams, Call Center agents can continue to use their application. Direct Routing enables both use cases to coexist. The call traffic between call center agents and Teams users stay within the organization.
Support for Analog Devices. If an organization decides to move to Calling in Teams but has analog devices such as elevator phones or overhead pagers, these devices can be connected to Teams and Phone System via Direct Routing. Call traffic between analog devices and Teams users stays within the organization.
"Direct Routing is designed to work with Microsoft Teams. Customers using Skype for Business Online should continue to use Cloud Connector Edition (CCE) or connect via an on-premises SFB Pool for their SIP trunk connection needs."
So, Where Do You Really Want to Go Today? How About Tomorrow?
Many companies now are planning to migrate from an on-premises Skype for Business (SfB) solution to the full complement of the Microsoft Office 365 solution as a fully integrated suite that encompasses the power of Voice and Meetings, as well as Microsoft Teams the full suite of Collaboration tools:
Skype (IM) and Messaging
Video
SharePoint
OneNote
Project
Planner
Developer
Other Applications
Many of these same companies already have an on-premises, server-based SfB solution, with mature features that include IM, calling, and video. How do they get from where they are today to where they want to go tomorrow?
Where Continuant Can Help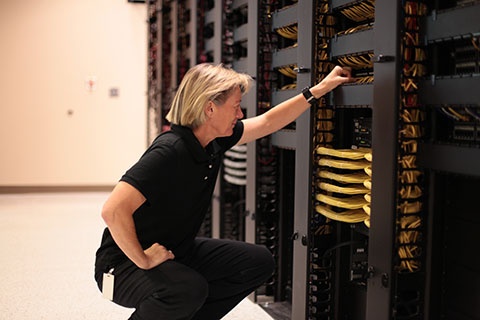 That's where Continuant comes in. Not only do we understand Voice, after spending nearly 25 years as Voice experts, but we are also a Microsoft Gold Partner. That means that Microsoft trusts us to help their customers find and get to the right solution for their enterprise.
To ensure a positive user experience, Continuant has a large, dedicated pool of Microsoft engineers, a single point of contact for Microsoft support, and third-party vendor management. Our mastery of Microsoft IT Pro Tools allows us to monitor call quality from the ear of the user to the point of demarcation, to O365. We quickly identify and resolve issues, whether on-premise, on the carrier's network, or with Microsoft.
Regardless of where any potential problem exists, (on-premise, on the carrier's network, or on O365), Continuant's Microsoft engineers can quickly determine the source, and use the data from our tools to resolve the problem in a timely fashion.
We understand the suite of Microsoft Pro Tools and are completely in sync with where Microsoft wants to take the marketplace.
Over the years, technology changes and user acceptance happens only when the technology is introduced, implemented, and adopted properly. Continuant's Managed Services for the SfBO offering is built from the ground up to ensure complete adoption and a positive experience for your employees.