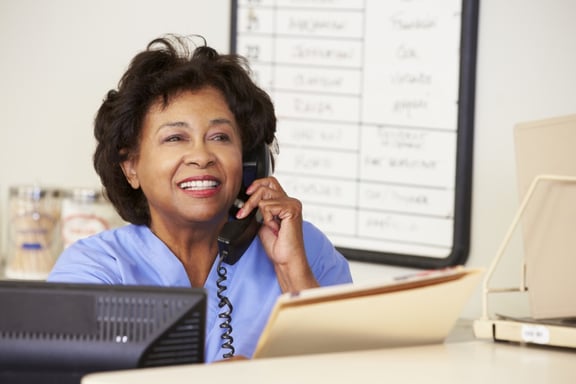 There's no arguing that prompt and professional patient engagement plays an increasingly vital role in patient satisfaction and loyalty. When patients feel they have received rapid, easy access to friendly people who make their health care services possible—the patient's overall satisfaction level soars.
Benefits of Contact Center Solutions
A contact center is a valuable tool for healthcare organizations to improve communications with patients and can result in the following business benefits:
The aforementioned boost in patient satisfaction and retention
Improved patient access to care
Improved scheduling convenience for patients
Reduced readmission rates
Reduced costs associated with disparate language services
Although technology is a crucial part of a contact center, there is a fine balance between offering the latest features and adapting to an aging population that requires greater levels of care and may not be technically savvy. There are a myriad of vendors available, all with their own strengths and drawbacks, but it's important to remember: there's no one-size-fits-all solution for contact centers.
Gartner's Top Contact Center Players
That's why Continuant takes a vendor-neutral approach to implement and support contact center solutions for major manufacturers. Vendor neutrality means that our customers get the right contact center solution—inbound, outbound, or blended–to support their unique business needs. Leaders in Gartner's Contact Center as a Service (CCaS) include these popular vendors:
Cisco
Avaya
Genesys
8x8
Interactive Intelligence
Aspect Software
Unify
SAP
Altitude Software
Mitel
Let's focus in on how Cisco, one of the "Leaders" on Gartner's 2015 Magic Quadrant for CCaS, is making its impact on contact center solutions for the healthcare industry and beyond.
Cisco Unified Contact Center Enterprise
Cisco Unified Contact Center Enterprise (Unified CCE) is one example of a leading contact center solution. Unified CCE provides call processing, prompts, voice response collection, agent selection, queuing, and reporting. Let's review some of the major pain points with patient communication that Unified CCE can address through its Healthcare Contact Center application.
One system to schedule appointments
Many scheduling conflicts and challenges arise from disparate scheduling systems that come up against each other, resulting in continual patient inconvenience and dissatisfaction. This is due to the patchwork of different groups and technologies to schedule patients, all of which provide the same function yet are completely unaware of each other. Cisco's Healthcare Contact Center provides a centralized scheduling system to serve patients' needs without interrupting workflow. A single database of scheduled work has been proven to be more convenient for patients and their referring physicians and improves operational efficiency while reducing costs.
Patient Outreach
There are a few ways that Cisco's Healthcare Contact Center can help with patient outreach. First, patients often require detailed communication and information from their providers after being discharged from a healthcare facility. A call center can place an outbound call to inquire whether discharged patients have any questions, ensure patients are taking the prescribed medication(s), and make sure the patients don't have any additional concerns form their inpatient stay.
Contact centers can also send out appointment reminders to patients. This is critical because missed appointments and last-minute rescheduling can have a huge effect on physician productivity and, ultimately, on revenue. Cisco's interactive voice response (IVR) capabilities allow you to place an automatic outbound call to the patient a day or two before the scheduled appointment. This not only confirms the patient will show up at for the scheduled appointment but also offers the opportunity for the patient to ask questions or reschedule the appointment before the last minute.
Avoid Billing Delays
It's no mystery that timely responses to insurance questions can help avoid payment delays. The automatic call distribution feature of Cisco's Healthcare Intelligent Contact Center Solution helps ensure that the proper person or department is contacted and that the patients' questions can be answered efficiently.