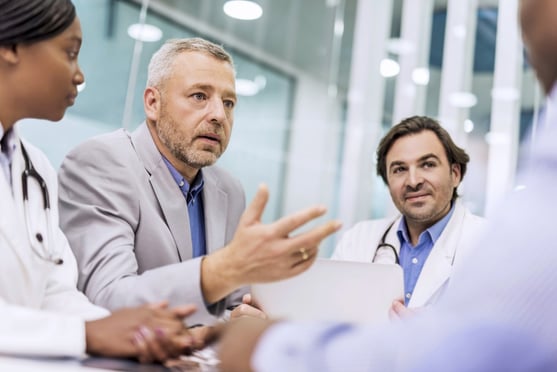 Sufficient healthcare is arguably the most desperately needed service on a global scale.
Organizations such as the World Health Organization give us some perspective with a few shocking numbers.
While this global scale can be difficult to take in, any healthcare organization can relate to the top challenges experienced in the healthcare industry. What the organization may not know, however, is that advanced technologies can help combat—and even eliminate—some of these challenges.
So, how does an organization start to combat the trends and challenges in global healthcare?
Extend the care experience
Any organization would like to experience growth, or even profitability. Expanding and extending the reach of an organization's healthcare services is one way for an organization to extend the care experience as far as the organization would like. Here are a few ways to extend the care experience:
Reach more patients across all geographies
Manage healthcare provider shortages
Improve health with virtual care
Improve team communication and performance
Resonating highly in the healthcare industry is the need to improve communication and the performance of the healthcare team. From clinicians to executives to administrative staff, communication and efficiency is key to extending the care experience and lowering costs. In order to improve team communication and performance, the organization can:
Improve team productivity and expertise
Increase real-time care team communications and collaboration to improve capacity and increase patient throughput
Promote provider education to stay current with advancements in medicine and meet continuing medical education requirements
Eliminate communication silos to accelerate decision-making
Lower costs and add new revenue
Costs and revenue are the bottom line that drives the ability to extend the care experience and improve team communication. Executives in healthcare know that there are methods for lowering costs and adding revenue that the healthcare organization has not yet tapped into. Here are a few tips for lowering costs and increasing revenue:
Increase revenue by transferring out fewer patients
Add new revenue from new lines of care
Reduce travel and classroom costs associated with on-site training
What's the common factor that makes most of these strategies possible? Advanced communications technology, or unified communications. Unified communications is essentially multiple tools or systems that offer diverse ways to communicate (i.e. voice call, email, instant messaging, mobile, text) – all working together. Healthcare organizations worldwide are experiencing incredible results with unified communications, and its time you consider what healthcare challenges your organization can combat with unified communications.