Over one century ago, two brothers made a big mistake. That mistake, it turns out, would help fuel a company that has been creating breakfast "fuel" ever since: the Kellogg Company (NYSE: K). The "mistake" happened when W.K. Kellogg and his brother, Dr. John Harvey Kellogg, in attempting to make a breakfast granola, accidentally created flakes out of wheat berries. Intrigued by their discovery, the brothers kept going until they achieved the same "accident" with corn—creating the now world-famous Kellogg's® Corn Flakes® cereal.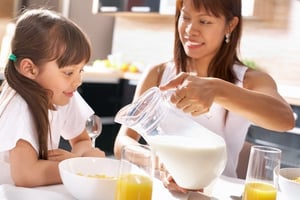 As people began to enjoy this new breakfast offering, the company grew and prospered in its Battle Creek, Michigan, location, surviving the Great Depression and two world wars—even offering the use of its manufacturing facility to the US government during WWII. During this era, Kellogg also invented the K-ration for U.S. troops serving overseas. Fast-forward to 1969 and the Apollo 11 mission and moon landing: It would be Kellogg that NASA chose to provide the nutritious breakfasts for astronauts Neil Armstrong, Buzz Aldrin, and Michael Collins.
Today, the Kellogg Company manufactures cereals, cookies, crackers, cereal bars, frozen waffles, and various vegetarian foods such as Gardenburger® in 18 countries under the motto, "Our Best to You," and markets its products in 180 countries. With revenues at US $13.5 billion, this US-based food manufacturing legend ranks 207 on the Fortune 500 list and continues its mission of "Nourishing families so they can flourish and thrive."
In late 2016, the Kellogg Company began searching for a better way to maintain and service its "end-of-life" Avaya systems. Continuant offered a more cost-effective service as Kellogg phased out its legacy equipment.
Today, in addition to maintaining and supporting Kellogg's Avaya systems at 20 locations, Continuant also advises the cereal giant on its move to Skype for Business.
---
Want to read more on Avaya Support
Our co-founder wrote a 5 part series on Avaya Support and how a Third Party Maintenance provider (TPM) could be the solution you are looking for.
---
Questions? Need more information?
Schedule a no-obligation call with one of our experts.