The year: 1920. The need: Delivering electric power to America's emerging petroleum industry.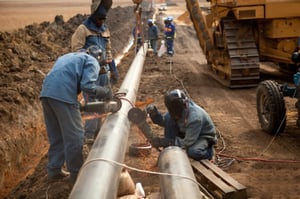 The solution: T.D. Williamson, Sr. launches The Petroleum Electric Company, an enterprise focused on supplying electric motors, generators, and other products to help the young industry grow.
For the next 12 years, the company grew and prospered, encouraging a culture of innovation to flourish. And flourish it did. Under T.D. Williamson's leadership, one of the company's employees came up with an idea that would revolutionize the petroleum industry: a cup-shaped rubber "stopper" that could be used to clean pipelines.
This big idea gained traction when
and others sold the concept to Gates Rubber Company—and changed both the company name and its overall direction. In 1933, T.D. Williamson, Inc. (TDW) was born. The company set up offices in Tulsa, Oklahoma and then moved to West Tulsa when TDW outgrew its original location. By 1942, at the start of World War II, the young company was asked to perfect its pipeline "scraper" for the large pipelines (20 and 24 inch) used in the War Emergency Pipeline System. This technology, formally known as the Pipeline Inspection Gauge, was later dubbed the P-I-G system—an apt name for a scraper that squealed when it went through the large pipes.
Fast-forward to 1950, when the world was recovering from the War and industry was booming. On the heels of its successful PIG invention, TDW expanded its business, manufacturing pipeline equipment as well as technology and other supplies.
Today, the list of TDW accomplishments is long and impressive, and the company now operates around the globe, with 56 sales offices and Regional Solutions Centers on every continent except Antarctica, including India, the Middle East, North Africa, Asia, Eurasia, and Europe—as well as North America.
With a focus on keeping offshore and onshore pipelines operating safely and flowing freely in a highly regulated industry, TDW operates a culture that fosters Initiative, Integrity, and Interdependence. Given this focus, communication among team members, between offices, and with the outside world of customers and regulators is key.
TDW initially came to Continuant to help manage its mostly Avaya infrastructure (with some ShoreTel also included). Today, the company relies on Continuant for its voice technology support and management, including Avaya, Skype for Business, and ShoreTel. Continuant provides Managed Services for all of TDW's voice systems today, including international cities such as Jakarta, Mexico City, Veracruz, Singapore, Edmonton, Calgary, and Melbourne—as well as the countries of France, Belgium, and India. Continuant will be working with this innovative energy company as it completes the transition to Skype for Business in 2018.
As this real-life example of American entrepreneurship continues to grow, it continues to reach out to Continuant to help it build trust with others in the industry. In the words of Chairman Emeritus, Richard Williamson:
"It's a real public trust for us all to be able to work in our industry. And the companies that have survived as operators and service companies have done so because they implicitly understand and are committed to our common mission to serve our many communities around the globe." For sure, for TDW, Continuant will help in that mission.
---
Want to read more on Avaya Support
Our co-founder wrote a 5 part series on Avaya Support and how a Third Party Maintenance provider (TPM) could be the solution you are looking for.
---
Questions? Need more information?
Schedule a no-obligation call with one of our experts.