The year: 1957.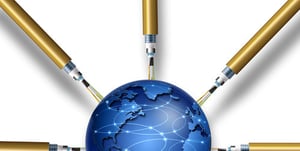 President Dwight D. Eisenhower begins his second term in office; the owner of the Brooklyn Dodgers agrees to move the team to Los Angeles; singer/songwriter Buddy Holly releases his hit single, "That'll be the Day"; while Elvis "the King" Presley purchases "Graceland" and makes his third and final appearance on The Ed Sullivan Show.Also in 1957, U.S. Marine Major John Glenn sets a new transcontinental speed record, flying his F8U supersonic jet from California to New York in 3:23:08. On the automotive front, the Japanese company exports is first Land Cruiser to the USA—while Ford debuts its colossal flop known as the "Edsel."
In this momentous year in history, two brothers, Bill and Alan Anixter, decide to change the way the wire and cabling business operates, borrowing $10,000 from their mother to start Anixter Brothers, a business that would revolutionize an industry characterized by lack of service, limited flexibility in purchasing options, and a requirement that even the smallest end user had to buy in bulk.
For the brothers Anixter, the American Dream was about to unfold, based on their conviction that service (like Elvis) was King. There had to be a better way than buying in bulk, they believed. And, having set out to change the cable and wire business, in just a few years, they did just that.
Within the first year in business, Anixter Brothers reported sales of $300,000. By 1966, those sales numbers soared to $10 million. And a decade after starting the business, the company went public on the American Stock Exchange.

Today, in the company's 60th year in business, Anixter (NYSE: AXE) employs some 8,800 people and serves more than 150,000 customers in 50 countries. With annual sales hitting some $6.1 billion, Anixter ranks #420 on the Fortune 500 list, where the company continues to pursue its original goal of creating "reliable, resilient systems that drive efficiency and effectiveness to benefit our customers' businesses."
With its similar commitment to exceptional service, Continuant is helping Anixter deliver products, technology, and services in a global marketplace.
Continuant provides technical, remote, and onsite support for Anixter's Avaya systems in Canada, Mexico, and South America—helping Anixter maintain its legacy voice systems at 31 international locations. While Anixter is in the middle of a migration to a new system, Continuant has "been there" for this uniquely American business "success story" and will continue to serve these mission-critical locations as long as the company needs to keep them in service.
---
Want to read more on Avaya Support
Our co-founder wrote a 5 part series on Avaya Support and how a Third Party Maintenance provider (TPM) could be the solution you are looking for.
---
Questions? Need more information?
Schedule a no-obligation call with one of our experts.