Helping customers do what they do best is the most important part of Continuant's work. For Shriners' Hospital for Children, the work Continuant supports is particularly critical, as they've been improving the lives of children and their families for almost 100 years. As Shriners approached a transition from Legacy PBX to a Cisco UC Solution, maximizing uptime and transitioning seamlessly was a necessity.
Nearly a Century of
Heroic Work
Started to meet the needs of children suffering from burns, orthopedic issues, cleft palates and more, Shriners Hospitals has truly lived up to their slogan "Love to the Rescue" since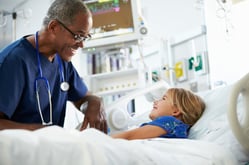 1922. With such critical work, 22 hospitals in North America and over 6,000 employees, staying connected 24/7 is a matter of life and death in many scenarios. That's why Shriners looked to establish a long-term partnership with a telecommunications provider back in 2009.
The First
Partner
ship
Initially, Shriners partnered with a major Avaya business partner to manage its PBX system. This partner could provide support for the system, but Shriners needed more. Given the large financial investment, Shriners needed a partner who could not only support the Avaya system investment but prolong it.
BY 2012, it was clear that this partner couldn't provide Shriners with what it needed. The contract came to an end, and Shriners came to Continuant. Continuant, as it turned out, was not only able to provide them with quality service but could do so with no pressure to upgrade and no set end date or end-of-life. Still, the best was yet to come.
A Powerful Partnership
Not long after taking the spot as the healthcare provider's communications service partner, Continuant began proposing a long-term roadmap to a Cisco UC solution. Sure enough, Shriners began making the transition in 2014. Already accustomed to and impressed with the Continuant experience, the people at Shriners trusted its proficiency with both Avaya and Cisco for this transition.
In transitions like this, the most critical factors are a seamless switchover and protected investment. If Shriners (a Nonprofit organization) was going to invest in Cisco, we had to ensure that every penny spent would be maximized. This required personalized onboarding, timely release updates, and 24/7/365 Support, not to mention an Enhanced SLA (possibly the only one of its kind in the industry).
As Continuant deployed the Cisco solution at each site, Shriners continued to enjoy having one point of contact, and hearing the familiar voices of one team all the way from start to finish. In this complex world of vendors, agreements, and roadmaps with all its endless options, having a trusted partner in Continuant has created much-needed simplicity and assurance.
"Having a partner with one hand to shake instead of one throat to choke for the management of our UC solution and telephone support has been a great advantage to Shriners. It's saved Shriners in resources of 3-4 FTE (Full time employees) to help managed our environment."
Glen Boomdram, IT Network & Telecommunications Manager
Plans for the Future
20 of Shriners' 22 hospitals have fully upgraded to the new Cisco system. Thus far it's been a resounding success. Thanks to Continuant, Shriners' IT staff are free to work on other projects. As one member of the team told us, "I wouldn't be able to do my job without Continuant, providing the day to day management of our system." Whether a high-ranking executive or an entry-level technician, all employees take advantage of rapid access to Tier 3 engineers during migration, maintenance and support after deployment of both Avaya and Cisco systems.
As we continue to partner with Shriner's vision of utilizing a full collaboration environment, they've started to take advantage of Continuant's AV offering as well. Continuant has outfitted meeting rooms at Shriners' HQ with Cisco Spark Boards, enabling them to instantly connect and collaborate, and this is just the start of the AV initiatives that Shriners can take advantage of. In the years to come, Continuant and Shriners will work together to create a cutting-edge AV environment to propel their mission forward.
As Shriners continues to help children in incredible ways, Continuant will be working behind the scenes to ensure that Shriners can keep doing what they do best.
---
Questions? Need more information?
Schedule a call with one of our experts.