Maximum uptime for an industry needing it most
Downtime isn't an option when the communication systems for your 22 hospitals and 6,100 employees are critical to patients' health.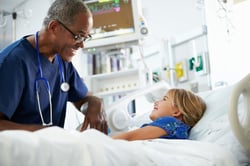 The majority of Shriners Hospitals for Children specialize in orthopedic conditions. Other locations specialize in treating serious burn injuries, spinal cord injuries, and cleft lips and palates.
A common thread across all of these hospitals is a genuine need for maximum uptime and a plan to maintain it.
To meet this need, Shriners selected Continuant's Incident and Event Management services with an Enhanced SLA, one of the only service level in the industry guaranteeing system restoration and providing built-in penalties.
Founded in 1922, Shriners is one of the largest providers of specialized health care for children. Shriners partnered with Continuant for maintenance and support of many of its Avaya systems from 2004 to 2010, but then elected to use a major Avaya Business Partner as its maintenance provider.
It soon became clear that the other provider couldn't match Continuant's level of service, and, as a result, Shriners placed all of its systems under Continuant maintenance and support coverage in 2012.
Prolonging the life of legacy Avaya systems
Given the large financial investment made in its existing systems and equipment, this Shriners needed a provider who not only supports the Avaya system investment, but prolongs it.
Continuant provided its expert maintenance and support of these legacy Avaya systems without the pressure to upgrade—and without announcing a date for end-of-life or end-of-support.
A helping hand in the move from Avaya to Cisco
In 2014, this customer—still impressed by the Continuant experience—opted to use Continuant to manage its migration to a Cisco Unified Communications infrastructure.
This hospital-by-hospital migration required a partner equally knowledgable about both Cisco and Avaya. Unlike the manufacturer (Avaya), Continuant was willing to help in the move away from Avaya and into the Cisco infrastructure. By providing a contract that allowed the customer to drop systems from coverage as the Avaya systems are decommissioned and replaced with Cisco, Continuant and its in-house teams of Avaya and Cisco engineers ensured a smooth and successful deployment at each site. Shriners was impressed, and selected Continuant to provide complete Managed Services for all of Shriners' Cisco systems.
Better reporting, more access to Cisco experts
Today, Continuant's IPM service provides Shriners with analytics and a monthly expert consultation and report focused on the customer's desired business outcomes by improving communications. And by leveraging Continuant's team of experts to deliver enhanced monitoring, the customer keeps its internal costs down by employing just three of its own support engineers.
Shriners has received tremendous benefit from Continuant's ability to maintain legacy Avaya systems as long as the customer chooses to use the systems, along by Continuant's ability to assist with a migration to either on premise or cloud-based Cisco UC, and finally, Continuant's ability to provide world-class day-two support for the Cisco UC environment.
---
Want to read more on Avaya Support
Our co-founder wrote a 5 part series on Avaya Support and how a Third Party Maintenance provider (TPM) could be the solution you are looking for.
---
Questions? Need more information?
Schedule a no-obligation call with one of our experts.