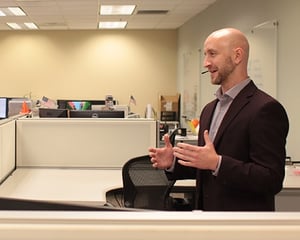 Newton, who handles global logistics for more than 20 of Continuant's international partners in the EMEA, LATAM, and ASPAC regions, credits his seven years in the US Air Force and two years in the Air Force Reserve for preparing him to understand social norms in diverse cultures outside of North America.
Having visited all seven continents in his five deployments, Newton developed a strong sense of how to build bridges and develop relationships with people in cultures vastly different from our own. For example, he says, "Before you schedule that conference call, you need to have some idea of what's considered respectful—and what's not—across cultures."
Newton, who can often be seen walking around with his headset on, deep in conversation, says that for him, the time spent getting to know a prospective supplier or partner—whether that time can be counted in hours, days, weeks, or months—is, without question, the most valuable aspect of his job and a huge key to the successes he has had on the job, whether finding good people or critical spares in "parts unknown" to keep Continuant's customers happy and operational.
And he has great stories to prove it.
One such story takes place in India, where Newton, tasked with searching for possible service provider partners capable of meeting SLAs (service level agreements) for some of Continuant's global customers, faced the daunting (to some) challenge of trying to figure out how to connect with business people in a culture that often views North American business communication style as abrupt and impersonal, with emails sometimes appearing too much like spam. Add to that challenge the fact that India is 12.5 hours ahead, with normal business hours starting at 10:00 AM and ending at 7:00 PM—a challenge under the best of circumstances.
But then this former aircraft cargo loadmaster whose credentials included serving on Presidential Detail, ensuring the safety of the Commander-in-Chief, as well as providing humanitarian relief during many natural disasters around the world, came to Continuant uniquely prepared to tackle even the most daunting challenge.
As Newton tells it, he took his time getting to know service providers in India and to "gain insight into another way to do business," with the end-goal being "collaborative, win-win solutions for both business partners that ultimately allows us to provide world-class customer service." He knew that reaching out via email might not yield the results he sought right away, but he persisted, drawing upon his international experience and understanding of different cultural norms for doing business.
After a month of "truly making cold-calls and attempts to communicate," he eventually succeeded in moving beyond emails to conversations with prospective partners—again, bearing in mind cultural differences, time zone challenges, and the fact that North American hard-hitting urgency is difficult to find in other cultures that value sitting down for a cup of coffee or tea without checking one's device or watch.
Newton, somewhat wryly, credits growing up in Kentucky with part of his success talking with people who may not understand "American English"—especially loaded with idioms and spoken fast. "I speak Kentucky," he says, which means talking slowly enough for people to understand what he's saying or trying to get across.
All of his life experiences and speaking style came into play, Newton said, when he was ready to seal the deal with an India-based service partner for Continuant. Little did he know, however, that this new relationship would be put to the test shortly after deciding to work with the new company.
According to Newton, one of Continuant's multi-national customers needed a quick turn-around on a quote for expanding service into India—and delivering that quote meant a significant assignment for Continuant.
Thanks to his hard work, persistence, and ability to build relationships, Newton was able to ask the partner company to turn a quote around quickly—which they did. Thanks to the quick response, the customer was extremely happy. "Without the relationships I've worked hard to build in the global arena, it wouldn't have happened." And that, says Newton, "is the ROI."
---
Questions?
Talk to an expert today.